When (if) the password is found, the program shows it, as well as the number of passwords which have been tested, and the program speed: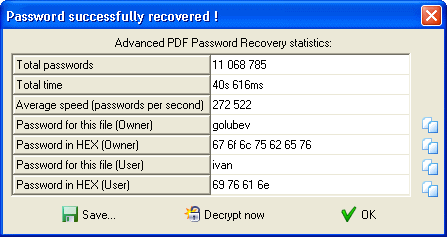 The last line displays the password in HEX form – it might be useful if the password, for example, contains some non-English characters which cannot be displayed correctly on your system (due to missing fonts, etc.).
Pressing the small button at the right of the password (in "normal" or HEX form) copy the password into the Clipboard. Alternatively, you can save the password to a file.
The program also shows the "type" of the password which has been found – "user" or "owner". And from that window, you can decrypt/unprotect the file immediately (using the recovered password, doesn't matter what particular one): press the Decrypt now button for that (you'll be prompted for target file name).
If all possible passwords in the given range have been tried without success (without finding a valid one), the message looks like: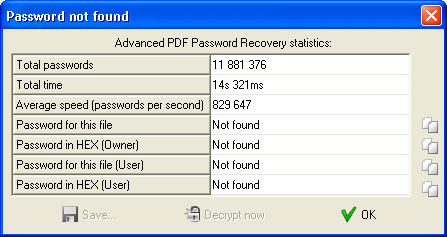 If you stopped recovery by pressing the "Stop" button, the current step of the brute-force attack is saved in the "Start from" field (for key search attack, in "Start block"). Now you can press the "Start" button again. Recovery will be continued from this step.
With the key search attack, the password is not recovered at all, but the program shows the file encryption key – to remove the password (and so the protection) from the given file, simply press Decrypt now button: