Elcomsoft Co.Ltd. » Advanced Office Password Recovery


| | |
| --- | --- |
| Access® Share-Level (Database) Password, Owner Information | Top Previous Next |
MS Access® Share-Level (Database) Password can be set to a Database to prevent unauthorized acceess. In English version of Access® this Password can be set selecting the "Tools | Security | Set Database Password..." menu item. This Password is stored in an Access® File encrypted by weak algorithm (XOR). Therefore it can be recovered instantly by AOPR. In Access 2007 the password protection is improved. Database password can be recovered by brute-force or dictionary attack.
Under User-Level Security, users type a Password when they start Microsoft® Access®. Access® then goes out and reads a workgroup information file, where each user is identified by a unique identification code. Within the workgroup information file, users are identified as authorized individual users, and as members of specific groups, by their personal ID and password.
For Access® Databases (*.mdb) with User-Level Security, the program shows the following information:
| | |
| --- | --- |
| • | Share-Level (Database) Password |
| | |
| --- | --- |
| • | Database Owner (Name and ID) |
| | |
| --- | --- |
| • | List of Objects and their Owners |
Here is an example: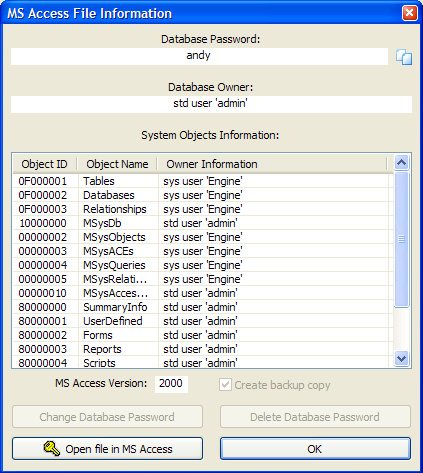 In most cases, all you need is just the Database password – it is showing at the top of that window (please note that Access® 2.0 supports User-Level Security only, and so the Database Password will be always empty for Access® 2.0 files). You can use the Password shown by AOPR; for Access® 97 files, you're also able to change or delete it (using the appropriate buttons at the bottom), just don't forget to enable "Create backup copy" option.
However, if the database has User-Level Security set and workgroup administration file (system.mda or system.mdw) is not available (if it is there, you can just get all the user names and passwords from it – see next chapter for details), you will also need Database Owner information.
Database Owner is showing only in AOPR Professional. Standard Edition just shows the Database Password:
To gain an Access® to a File if User-Level Security Database is absent, you need to do the following:
•

Run MS Access® (same version your file has been created with, as shown by

AOPR

).
| | |
| --- | --- |
| • | Create a new database (or open any existing not protected one). |
•

Go to

Accounts

setup (usually, it is in

Tools | Security | User And Group Accounts

),

Users

tab.
•

Create a new user with name displayed by AOPR (without quotes; just type that name in "Name" drop-down combo box, and press the

New

button). Access® will open a new window with two fields -- Name and "Personal ID". In the second one, type the ID displayed by

AOPR

and press OK.
•

Close

Accounts

window with OK and exit from Access®.
| | |
| --- | --- |
| • | Run Access® from the command line with the '/user' option, i.e.: |
MSACCESS.EXE /user
| | |
| --- | --- |
| • | You'll be prompted for User Name and password. Type the Name you created and empty Password. |
| | |
| --- | --- |
| • | Now open your (protected) database, and you should have all necessary permissions (as Database Owner). |
For more information, please see the following Microsoft® articles:
Create, join, or fix workgroup information files
Manage user and group accounts
---
Get more information about Advanced Office Password Recovery
Get full version of Advanced Office Password Recovery

(c) 2004-2014 ElcomSoft Co.Ltd.