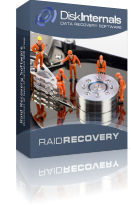 Effective immediately and until November 1, 2009, a 20% discount for Diskinternals Raid Recovery is available. To claim the discount, click here to place an order, or use coupon code "elcomsoft" at the time of check-out.
Diskinternals Raid Recovery helps criminal investigators and government authorities to access unavailable evidence by extracting information that has been deleted, or became unavailable after a hard disk failure. The data recovery tool can extract information from healthy, damaged, formatted, and repartitioned storage media. Diskinternals Raid Recovery can recover data from all types of hard disks, RAID arrays including those with missing disks, SSD media, flash drives and memory cards.
Order now!
Diskinternals Raid Recovery helps businesses, forensics and criminal investigators extracting data that has been erased or lost after a disk failure. By recovering deleted files and restoring information from many types of damaged, formatted and repartitioned storage, Diskinternals Raid Recovery helps companies recover otherwise inaccessible data. Investigators will get a hold of evidence that was attempted to be destroyed. Using proprietary low-level protocols permits Diskinternals Raid Recovery to locate and recover more data than it would be possible by using other data recovery and forensic tools. Specifically, its PowerSearch algorithm is designed to bypass limitations imposed by OS access rights, while making it possible to extract data from damaged, corrupted, and even inaccessible storage media.
Diskinternals Raid Recovery combines the simplicity of the user interface with sophisticated information recovery features and proprietary algorithms, helping its customers to perform comprehensive information recovery in just a few mouse clicks.
Technically, Diskinternals Raid Recovery can extract information from storage media used in Windows and many types of Unix systems such as Linux and FreeBSD, and using generic and Guid partition tables.
Types of file systems supported:
Windows: FAT, NTFS (all editions), including compressed and encrypted files and alternative data streams;
Unix based systems: Ext2/3, HFS+
Important features include:
PowerSearch signature search enables consistent recovery for 170+ file types including office documents, compressed archives, images, multimedia files, email and databases;
Manual and Auto RAID assembly makes it possible to extract data from damaged and incomplete RAID arrays;
Supports RAID type 0, 1, JBOD, RAID 5, and 0+1
Recovers information from arrays created with RAID-enabled motherboards with chipsets by NVidia, Intel, or VIA
Supports Adaptec RAID Controllers and DDF compatible devices
Windows: supports Microsoft software RAID (Dynamic Disks)
Linux: supports software raids
Supporting a variety of media, Diskinternals Raid Recovery enables reliable data recovery from all types of hard disks, including RAID arrays with missing or damaged disks, removable drives, flash sticks and a variety of memory cards. Direct recovery from specialized storage devices located inside of many digital cameras and portable audio/video players is also possible.
Data recovery is possible from the following types of storage media:
Desktop and laptop hard drives, including SSD and Hybrid drives;
USB and FireWire external drives and bays;
Flash memory and USB drives;
All types of memory cards including, but not limited to: SD, microSD, SDHC, CompactFlash, xD, MemoryStick, MMC;
RAID arrays including hardware, software, and native arrays (see above);
Removable drives such as Zip and Jazz disks;
Floppy disks.